What's New?
BREAKING NEWS:
Burnaby MoreSports is back providing free after school sports programs and needs your help. All donations go towards providing these free sessions to kids who don't always have the opportunity to play organized sports. Every donation, no matter the amount, helps and is appreciated.
Donations greater than $25 will receive a tax receipt.
Burnaby MoreSports Society 2020 AGM Notice

November 9, 2020 via Zoom

6:30 – 7:00 pm

Please email president@burnabymoresports.ca for more information and a link to the Zoom meeting.
In June 2020, the Vancouver Foundation and G&F Financial Group confirmed funding for our local programs working with children and youth! Partnerships such as this are so important for BMS to continue its work in the community.  Thank you to both organizations for their support during these very challenging times!
Due to the COVID-19 pandemic and the closure of schools across the province, Burnaby MoreSports has had to cancel the spring program session (April -June).  Please check back for further updates as we continue to monitor what the B.C. Government and Burnaby School Board are advising.  We hope everyone is staying safe and healthy/active during these challenging times.
Burnaby MoreSports Society (BMS) sends best wishes to all families and school staff for good health over the extended break!
In March, the City of Burnaby confirmed funding for our local programs working with children and youth! Partnerships such as this are so important for BMS to continue its work in the community.  Thank you, City of Burnaby!
The Hamber Foundation and Recreation Foundation of BC supported a new program at Cameron Elementary School in the winter term!

The BMS Winter Campaign – Helping Hot-Shots! – has raised over $2,000 so far in support of our after-school sports programs for children and youth in 2020! You can still help a young hot-shot by donating today!
RECENT NEWS:
BMS hosted its first Basketball Festival in late November. A total of 123 children and youth from 11 elementary and high schools attended the celebration. Thank you to all BMS volunteers and Burnaby School District staff who supported this event!
BMS partnered with Beedie to raise funds at their annual ball hockey tournament in September! Many thanks to everyone who helped us reach our event fundraising target in support of programs for hundreds of young people in Burnaby this year!

BMS renewed its partnership with SVP Vancouver in September! SVP confirmed it will be providing funding and in-kind support services for a third year to help BMS build internal capacity to support continued growth of community-based sports programs for Burnaby's children and youth.
OTHER NEWS:
Last summer, BMS ran four weeks of recreational afternoon sports camps in partnership with Gilmore Community School and The Heights Neighbourhood Association as part of their Rec & Read program. Thanks to our local community partners for inviting us to deliver a great summer experience for the kids!
Over the last year, BMS has received contributions from these new partners: Metropolis at Metrotown, Recreation Foundation of BC, Orbis Investments, and Cactus Club Cafe. Many thanks to these community builders!
BMS recognizes the many contributions that allow us to successfully deliver free out-of-school sports programs for hundreds of youngsters in need within our community each year. We thank all community partners, and look forward to working with their continued support in 2020!
WATCH THIS SPACE:
Stay tuned for updates and ways to support free sports for local kids and youth!
See our Support Us page for more information on how you can contribute.
Program News
We offer free after-school recreational sports programs in Burnaby schools. Our sports change throughout the year, so everyone gets a chance to play a favourite sport or develop their skills in something different. Please see our
Programs
page for current information.
Towards the end of each term, BMS hosts a sports festival celebration event for all participating schools. See some of our previous event pictures here.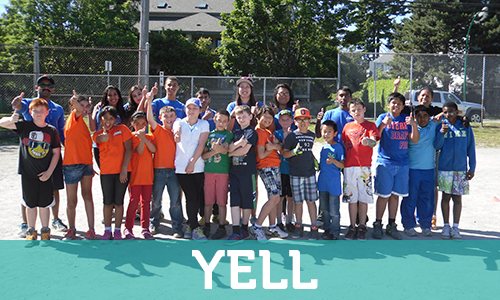 YELL (Youth Engage Learn Lead) offers sports and recreation leadership skills for high school students. Earn valuable certifications, gain work experience, and complete volunteer hours while supporting the Burnaby MoreSports programs for elementary students.
Junior coaches (Grade 6 and 7) help run programs for younger students. Learn leadership skills while having fun and making friends!
Check out photos of our previous festivals and events!
Special Thanks To Our Community Partners: